Helpful hints: to find a particular Movie, Director, or Actor use a "search" shortcut (Mac: Command + F; Windows: Windows key + Control + F). To return to the top of the page (Mac: Command + "Up Arrow"; Windows: "Home" Key).
1970
Best Picture (1970): Patton (1970)
Release Date: February 5, 1970
Director: Franklin J. Schaffner
Studio: 20th Century Fox
Released at the height of an unpopular war in Vietnam, Patton is a powerful cinematic contemplation of the incredible, albeit controversial, legacy of General George S. Patton. George C. Scott delivers one of the great performances in all of Hollywood history as General George S. Patton, "old blood and guts," the gruff, recalcitrant, disciplined, well-read, profane yet virtuous Allied leader as we follow him from Tunisia, to Britain, to France and Germany, and finally into old age.
M*A*S*H* (1970)
Love Story (1970)
Woodstock 3 Days of Peace & Music (1970)
Five Easy Pieces (1970)
El Topo (1970)
Beyond the Valley of the Dolls (1970)
1971
Best Picture (1971): The French Connection (1971)
James Bond #7: Diamonds Are Forever (1971)
Release Date: December 14, 1971
Director: Guy Hamilton
Studio: Eon/United Artists
After the unexpected of departure of George Lazenby after On Her Majesty's Secret Service, Sean Connery returned one more time to reprise his role as James Bond. The plot of this film is odd and confusing, but, in essence, it follows Bond as he trails the infamous Blofeld who clones himself, holds the world ransom, and uses diamonds to power a nuclear-capable satellite circulating the globe.
Bananas (1971)
Brian's Song (1971)
A Clockwork Orange (1971)
Dirty Harry (1971)
Duel (1971)
Fiddler on the Roof (1971)
Harold and Maude (1971)
The Last Picture Show (1971)
McCabe & Mrs. Miller (1971)
Mon Oncle Antoine (1971)
Shaft (1971)
Trafic (1971)
Walkabout (1971)
WR: Mysteries of the Organism (1971)
Willy Wonka and the Chocolate Factory (1971)
1972
Best Picture (1972): The Godfather (1972)
Release Date: March 14, 1972
Director: Francis Ford Coppola
Studio: Paramount Pictures
The Godfather is simply a perfect movie -beautifully shot, with an impeccable script devised by Director Francis Ford Coppola and original novelist Mario Puzo, a transcendent score by Nino Rota, excellent acting from an all-star cast including Marlon Brando, Al Pacino, James Caan, Robert Duvall, Diane Keaton and many others. The Godfather is the mafia movie par excellence.
Aguirre, the Wrath of God (1972)
Cabaret (1972)
The Candidate (1972)
Deliverance (1972)
Last Tango in Paris (1972)
Play It Again, Sam (1972)
Late Spring (1972)
The Discreet Charm of the Bourgeoisie (1972)
Tout va bien (1972)
Solaris (1972)
Sounder (1972)
1973
Best Picture (1973): The Sting (1973)
Release Date: December 25, 1973
Director: George Roy Hill
Studio: Universal Pictures
After Butch Cassidy and the Sundance Kid in 1969 Director George Roy Hill, Robert Redford, and Paul Newman teamed up again, this time for a faux 1930s gangster film about an elaborate sting operation in Chicago. It is a delightfully playful film filled with old timey ragtime music and the "big con."
James Bond #8: Live and Let Die (1973)
Release Date: June 27, 1973
Director: Guy Hamilton
Studio: Eon/United Artists
Live and Let Die is the eighth Eon James Bond film, and the first to feature Roger Moore in the lead role (after Sean Connery refused to reprise the role -though he later returned in the non-canonical Bond film entitled Never Say Never Again). In the film, Bond pursues a man named "Mr. Big" -a drug dealer who turns out to be a political leader in the Caribbean. The story takes us through a number of voodoo occultist and blaxploitation stereotypes.
American Graffiti (1973)
Badlands (1973)
Cries and Whispers (1973)
Day for Night (1973)
Enter the Dragon (1973)
The Exorcist (1973)
High Plains Drifter (1973)
Mean Streets (1973)
Paper Moon (1973)
Don't Look Now (1973)
Pat Garrett and Billy the Kid (1973)
The Mother and the Whore (1973)
Scenes From A Marriage (1973)
Spirit of the Beehive (1973)
Sleeper (1973)
The Long Goodbye (1973)
The Way We Were (1973)
1974
Best Picture (1974): The Godfather Part II (1974)
Release Date: December 12, 1974
Director: Francis Ford Coppola
Studio: Paramount Pictures
The beauty of the Godfather Part II lies in it being both a sequel –perhaps the greatest sequel in cinematic history– and yet also a prequel. The two narratives, sequel and prequel, are beautifully interwoven in a way that forces the audience to contemplate the distinct lives between the old generation of Vito Corleone and his rise from Sicilian orphan to American mafia Don, and the new generation of Michael Corleone whose reign as mafia Don is plagued by political infighting, legal crackdowns, and familial collapse. Once again it features an incredible cast: Al Pacino, Robert De Niro, Diane Keaton, Robert Duvall, John Cazale, and many others.
Chinatown (1974)
Release Date: June 20, 1974
Director: Roman Polanski
Studio: Paramount Pictures
Chinatown is a Los Angeles noir murder mystery picture that comes down to us in the great American tradition of Dashiel Hammett and Raymond Chandler. Written by Robert Towne, Chinatown has often been called the greatest screenplay ever written. In Chinatown we are brought back to Los Angeles during the drought-ridden 1930s. Jack Nicholson plays a private-eye who gets caught in the middle of a water rights scheme between a daughter (Faye Dunaway) and her father (John Huston).
James Bond #9: The Man With The Golden Gun (1974)
Release Date: December 19, 1974
Director: Guy Hamilton
Studio: Eon/United Artists
The second of Roger Moore's James Bond films, The Man With The Golden Gun is also the ninth Eon Bond film. James Bond is sent to investigate an international assassin named Francisco Scaramanga (played by Christopher Lee) who possesses a highly lethal, one shot golden gun, and who has stolen a solar device to power a ray gun weapon.
A Woman Under the Influence (1974)
Ali: Fear Eats the Soul (1974)
Amarcord (1974)
Blazing Saddles (1974)
Bring Me the Head of Alfredo Garcia (1974)
The Conversation (1974)
The Texas Chainsaw Massacre (1974)
The Towering Inferno (1974)
The Enigma of Kaspar Hauser (1974)
Young Frankenstein (1974)
1975

Best Picture (1975): One Flew Over the Cuckoo's Nest (1975)
Release Date: November 19, 1975
Director: Miloš Forman
Studio: United Artists
Based on the 1962 novel of the same name by counterculture Beat-adjacent writer Ken Kesey, One Flew Over The Cuckoo's Nest is an amazing film adaptation of a challenging novel. In a certain sense One Flew Over The Cuckoo's Nest is the contemplation of a willful authoritarian regime. It is a film showcasing the dichotomy between the sanitized, lifeless world of pure order, and a chaotic but colorful world of pure freedom. One Flew Over The Cuckoo's Nest celebrates the 1960s ideal of escapism from the confining bounds of dictatorial control. Randle Patrick McMurphy (Jack Nicholson) is a freewheeling harbinger of chaos who is committed to a mental hospital ruled by the indomitable Nurse Ratched (Louise Fletcher).
Jaws (1975)
Release Date: June 20, 1975
Director: Steven Spielberg
Studio: Universal
Based on Peter Benchley's novel of the same name, Jaws is the classic horror film about a massive great white shark plaguing a summer New England resort town. Jaws was the notable originator the summer blockbuster, a trend that would soon follow with other release strategies, such as Star Wars.
The Return of the Pink Panther (1975)
Release Date: May 21, 1975
Director: Blake Edwards
Studio: United Artists
The Return of the Pink Panther is the best Pink Panther film in the series and it is one of the funniest movies of all-time (apparently it was the highest grossing Hollywood comedy up to that time, as well). In the film, the famous Pink Panther diamond is stolen from its secure museum location in the Middle East. Peter Sellers reprises his role as the bungling Inspector Clouseau as he travels across the world in search of the diamond thief who he believes to be Sir Charles Litton (this time played by Christopher Plummer).
Barry Lyndon (1975)
Dog Day Afternoon (1975)
Love and Death (1975)
Nashville (1975)
The Man Who Would Be King (1975)
Night Moves (1975)
Numero deux (1975)
Monty Python and the Holy Grail (1975)
Nashville (1975)
Picnic at Hanging Rock (1975)
The Passenger (1975)
The Rocky Horror Picture Show (1975)
Salo, Or the 120 Days of Sodom (1975)
Shampoo (1975)
Tommy (1975)
1976
Best Picture (1976): Rocky (1976)
Release Date: November 21, 1976
Director: John G. Avildsen
Studio: United Artists
Rocky began as a low budget movie, based on the idea for the story written by Sylvester Stallone. He wrote the script in three and half days after watching a Muhammad Ali fight. Much like the plot, the film had a unique rise from obscurity to become one of the more recognizable sports films of all time. Sylvester Stallone plays the down on his luck, working class "Italian Stallion" from the streets of Philadelphia who is given a once in a lifetime opportunity to fight the boxing world champion, Apollo Creed (played by Carl Weathers). The plot of the film is one long tired cliché.
Taxi Driver (1976)
Release Date: February 8, 1976
Director: Martin Scorsese
Studio: Columbia
In a depraved, morally ambiguous, post-Vietnam War New York City we are introduced to Travis Bickle (Robert De Niro), a veteran suffering from PTSD. He is isolated, lonely, empty, likely racist, and an insomniac -he visits porn shops and takes a job driving a taxi. His failure to woo a woman causes him to descend into a violent fit of madness that is later interpreted as an act of heroism.
All the President's Men (1976)
Release Date: April 4, 1976
Director: Alan Pakula
Studio: Warner Bros.
All The President's Men is a classic film about the Washington Post investigation into the Watergate scandal that brought down the Nixon presidency. It stars Robert Redford and Dustin Hoffman as Washington Post reporters Woodward and Bernstein. They chase the clues left behind by their anonymous informant "Deep Throat" that ultimately end the Nixon White House.
The Pink Panther Strikes Again (1976)
Release Date: December 15, 1976
Director: Blake Edwards
Studio: United Artists
The Pink Panther Strikes Again is a hilarious follow-up to one of my favorite comedy films of all-time, Return of the Pink Panther (1975). Peter Sellers revives his role as Inspector Clouseau with many of his familiar gags -stumbling around Europe, mispronouncing words, employing a ridiculously thick French accent, driving his old boss to the brink of madness. It is a terrific absurdist comedy.
Bound For Glory (1976)
Carrie (1976)
In the Realm of the Senses (1976)
Heart of Glass (1976)
Marathon Man (1976)
Network (1976)
1977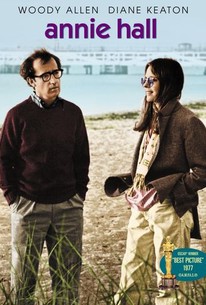 Best Picture (1977): Annie Hall (1977)
Release Date: March 27, 1977
Director: Woody Allen
Studio: United Artists
Annie Hall is Woody Allen's magnum opus. It tells the neurotic yet charming love story of Alvy Singer (Woody Allen), a somewhat successful stage comedian and his relationship with Annie Hall (Diane Keaton). The film is brilliantly told through a series of flashbacks and rule-breaking gags that make Annie Hall a wonderful film.
James Bond #10: The Spy Who Loved Me (1977)
Release Date: July 7, 1977
Director: Lewis Gilbert
Studio: Eon/United Artists
The Spy Who Loved Me is the third Bond film to star Roger Moore. It is about an unlikely partnership between James Bond and a Soviet spy, Anya Amasova, as they research the mysterious disappearance of two submarines: one Soviet and one British. The trail ultimately leads them to a maniacal villain seeking to launch a nuclear holocaust in order to create a new civilization under the sea.
Star Wars Episode IV: A New Hope (1977)
Release Date: May 25, 1977
Director: George Lucas
Studio: Lucasfilm Ltd.
Star Wars is the great science-fiction epic, Arthurian space opera of our time. It tells the story of a listless young man named Luke Skywalker who is suddenly caught up in a struggle between an alliance of rebels fighting the total power of the galactic empire. Each one of the original three (out of a total of nine) films is excellent, and sadly the same cannot be said for any of the other more recent Star Wars films.
Close Encounters of the Third Kind (1977)
Eraserhead (1977)
The Goodbye Girl (1977)
The Hills Have Eyes (1977)
Julia (1977)
Killer of Sheep (1977)
Saturday Night Fever (1977)
Stroszek (1977)
3 Women (1977)
1978
Best Picture (1978): The Deer Hunter (1978)
Release Date: December 8, 1978
Director: Michael Cimino
Studio: Universal Pictures
By all accounts The Deer Hunter is the best movie Michael Cimino ever made. It won him an avalanche of awards and critical praise, including Best Picture and Best Director from the Academy Awards. The Deer Hunter takes place over the span of three years in the life of three young men from Pennsylvania as they are sent away to the Vietnam War and it tragically changes their lives. The Deer Hunter features an all-star cast: Robert De Niro, John Savage, Christopher Walken, Meryl Streep, and John Cazale.
The Revenge of the Pink Panther (1978)
Release Date: July 13, 1978
Director: Blake Edwards
Studio: United Artists
After years of declining physical and mental health, as well as a fiery relationship with Director Blake Edwards, the brilliant comedian Peter Sellers returned one final time to reprise his role as the bungling and incompetent Inspector Clouseau. The Revenge of the Pink Panther is not the best Pink Panther film, despite there being some terrific and characteristic physical comedy in this installment. The plot does not concern the pink panther diamond but instead the mafia is after Clousea and he is presumed dead while his maniacal boss is re-instated on the police force. The theme of Clouseau's death is ironic considering that Peter Sellers died a mere two years after this film's release (Sellers died in 1980).
Jaws 2 (1978)
Release Date: June 16, 1978
Director: Jeannot Szwarc
Studio: Universal Pictures
Jaws 2 is a surprisingly entertaining sequel to Steven Spielberg's original. The story again takes place in the happy beach town of Amity with Roy Scheider reprising his role as Police Chief Brody while a killer shark again plagues the town -this time attacking Brody's own children.
(National Lampoon's) Animal House (1978)
The Buddy Holly Story (1978)
Coming Home (1978)
Dawn of the Dead (1978)
Days of Heaven (1978)
Gates of Heaven (1978)
Grease (1978)
Halloween (1978)
The Last Waltz (1978)
Superman The Movie (1978)
The Tree of Wooden Clogs (1978)
An Unmarried Woman (1978)
Watership Down (1978)
1979
Best Picture (1979): Kramer vs. Kramer (1979)
Alien (1979)
Release Date: May 25, 1979
Director: Ridley Scott
Studio: 20th Century Fox
Profoundly psychological, deeply unsettling, disorienting and atmospheric: Alien is the quintessential science fiction-horror film. Directed by Ridley Scott and starring Sigourney Weaver, Alien follows a commercial space ship that diverts course when it discovers a distress signal. But they find something grave and terrifying: a violent alien species that seeks to hunt and kill every human being aboard the ship.
Escape From Alcatraz (1979)
Release Date: June 22, 1979
Director: Don Sigel
Studio: Paramount Pictures
Escape from Alcatraz is an American realist film about the infamous 1962 prison break from America's most impenetrable prisons. The movie stars Clint Eastwood, Patrick McGoohan, Fred Ward, Jack Thibeau, Larry Hankin, and Danny Glover (his cinematic debut). The story is based on a 1963 novel of the same name. It details the extraordinary efforts by three men, led by the genius Frank Morris, to break out of Alcatraz. Director, Don Siegel, is famous for working with Eastwood on other films including Dirty Harry.
James Bond #11: Moonraker (1979)
Release Date: June 26, 1979
Director: Lewis Gilbert
Studio: Eon/United Artists
Moonraker is based on the third Ian Fleming James Bond novel, it is the fourth Bond film to star Roger Moore, and the third Bond film directed by Lewis Gilbert: You Only Live Twice (1967), The Spy Who Loved Me (1977), Moonraker (1979). Moonraker is about a maniacal villain named Hugo Drax (played by Michael Lonsdale) and his plan to launch a nuclear war on earth while creating a super race of humans at his space station. In the film, we meet Dr. Holly "Goodhead" (played by Lois Chiles), a spy posing as a scientist, and Moonraker also re-introduces a less fearsome and more sentimental portrayal of Jaws (he falls in love and has a change of heart in the end).
Star Trek #1: Star Trek – The Motion Picture (1979)
Release Date: December 7, 1979
Director: Robert Wise
Studio: Paramount Pictures
After the cancelation of the original Star Trek television series Paramount decided to produce a feature film approximately 10 years later in 1979. Inspired by themes of human purpose contra mechanical emptiness, Star Trek reintroduces the original series to the big screen with inspiring gusto and applaudable pace. Its shortcomings include poor effects and cinematography, as well as lengthy scenes (such as slow and extensive scenes of a ship docking) but nevertheless the film is an inquiry-provoking delight. It is about a dangerous high energy cloud moving through space and destroying spaceships along the way. Before it can strike Earth Captain -or rather- "Admiral" Kirk returns to the helm of the Starship Enterprise to discover the secret of the cloud and defend human life on Earth.
All That Jazz (1979)
…And Justice For All (1979)
Apocalypse Now (1979)
Being There (1979)
The Black Stallion (1979)
The China Syndrome (1979)
The Marriage of Maria Braun (1979)
The Jerk (1979)
Mad Max (1979)
Manhattan (1979)
(Monty Python's) Life of Brian (1979)
Norma Rae (1979)
Nosferatu: The Vampyr (1979)
The Onion Field (1979)
The Tin Drum (1979)