À nous la liberté (1931) Director: René Clair
★★★☆☆
"Freedom for us all" is a quirky French musical/comedy directed by René Clair. It contains beautiful set designs, not unlike Clair's other French films of the early 1930s, like Sous les toits de Paris. The films tells the story of two friends who were at one time imprisoned and building toys behind bars, before escaping. Not unlike Jean Valjean, one becomes a successful factory magnate producing phonographs and eventually the two friends are reunited when the other takes a job in his factory. However, in the end it is discovered that he is an escaped convict and he loses his factory. It is taken over by wealthy businessmen and automation. The films closes as the factory is mostly run by machines with a few listless workers sitting around playing cards. The two original friends sing the title song, while they sit on the sit of the road like a couple of bums before continuing down the road.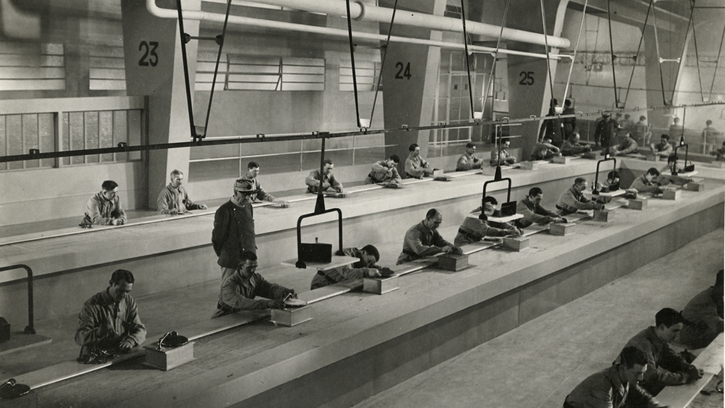 The film was embroiled in controversy with Charlie Chaplin's Modern Times (1936) for its similar depictions of industrial factory life as if it were like a prison. Both parties ultimately reached a settlement outside of court, after nearly a decade of litigation. Throughout his life Chaplin maintained he had never seen the film, and thus could not have plagiarized it. Clair was embarrassed by the lawsuit, as he was a great admirer of Chaplin and claimed he owed a great debt to Chaplin anyway. The film is renowned for its remarkable use of sound.
The most compelling theme in the film is the overarching desire to be free from whatever condition the characters find themselves in. There are several memorable scenes, including one in which a close-up of a flower is paired with beautiful music, as well as the unique employment of phonographs in the movie. It is a good movie, though long and difficult to sit through for the modern audience, even if you can find an edition with English subtitles.