Scarface: The Shame of the Nation Director: Howard Hawks (1932)
"The World Is Yours"
★★★☆☆
A United Artists film, Scarface is one of the greatest gangster films ever made. Following from Little Caesar and The Public Enemy, Scarface details the rise and fall of a Chicago gangster (modeled on the life of Al Capone). The film was infamously later remade in 1983 starring Al Pacino.
It opens with a title that reads:
"This picture is an indictment of gang rule in America and of the callous indifference of the government to his constantly increasing menace to our safety and our liberty. Every incident in this picture is the reproduction of an actual occurrence, and the purpose of this picture is to demand of the government: 'What are you going to do about it?' The government is your government. What are YOU going to do about it?"
The plot follows Tony Camonte (played by Paul Muni) and his boss Johnny Lovo (played Osgood Perkins) as they kill one of the top crime bosses on Chicago's Southside. Tony chases after Johnny's girl and also angers Johnny by conducting a number of drive-by shootings against the Irish gangs on the Northside (in a version of the notorious Saint Valentine's Day Massacre in Chicago). Tony tells Johnny's girl that he looks out at the giant sign reading: The World Is Yours and he believes it. Eventually, Johnny arranges for Tony to be killed in a drive-by, but he escapes and kills Johnny, claiming himself the leader of the gang. However he goes to meet his sister who is recently married to a close comrade of Tony's, unbeknownst to Tony. He kills his comrade and appears to fall into a depression as his gang begins falling apart. The police close in on his headquarters, a stray bullet kills his sister, and Tony is shot and killed beneath the sign reading: The World Is Yours.
The film is based on Armitage Trail's novel of the same name. It was a highly controversial film that had to be heavily edited to minimize the violence. The subtitle was also added because it was accused of glamorizing the violent mob life.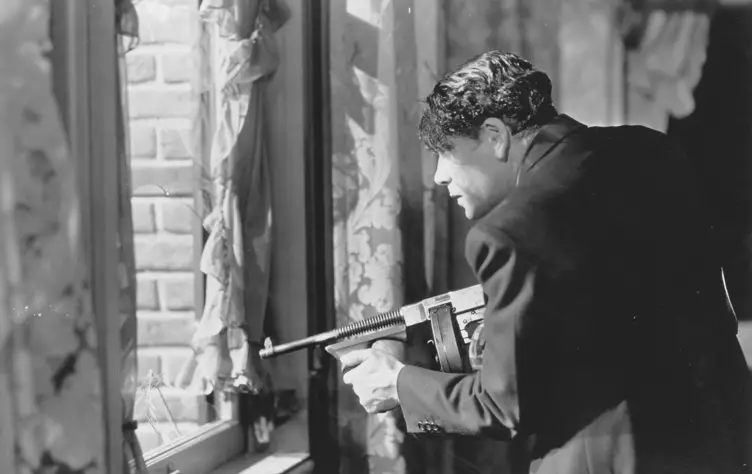 Scarface is a good movie. Paul Muni gives a great performance (capturing Capone's awkward mannerisms) and the film takes its influences from earlier gangster films, as well as elements of German Expressionism.