Little Women (1933) Director: George Cukor
★★★★★
Little Women is a cinematic triumph, one of the great films of the 1930s. It is as moving as it is delightful, both tragic and comic, though not at the same time. This was the third production of Little Women, after two previous silent films. Starring Katharine Hepburn as Josephine "Jo" March -she later went on to say "I defy anyone to be as good (as Jo) as I was." The screenplay was written by the husband and wife duo, Sarah Y. Mason and Victor Heerman, based on the 1858 novel by Louisa May Alcott, which spawned several sequel novels in later years. The film's transcendent nostalgia is welcome in any age, though it found particular popularity in the years after the Civil War, when Alcott published the book.
The story is told in a series of vignettes. The virtuous but poor March family tries to make ends meet at Christmastime in their humble Concord, Massachusetts home. Mr. March is away fighting and serving as Chaplain during the American Civil War.  We meet his four daughters and wife, Marmee. The four March sisters are: Josephine, or "Jo", a gregarious tomboy and, for our purposes, the protagonist of the story. In order to help support the family, she care takes of their elderly and wealthy Aunt March. She is also a writer and, together with her sisters, she stages a series of swashbuckling and amusing plays. Amy is the curly blond, an attractive sister known in part for her selfishness, Meg works as a seamstress to support the family, and Beth is a sensitive and musically gifted sister who plays the family's broken clavichord. Next door is the wealthy and spacious Laurence residence. A young man named Laurie has moved in to live with his grandfather, and Jo meets him and they get along famously. Soon the four March girls are invited to a party at the Laurence residence. At the party Meg meets Laurie's tutor, Mr. Brooke and they begin a courtship. In the passing months, Jo becomes a published writer and Beth plays the more refined Laurence piano next door.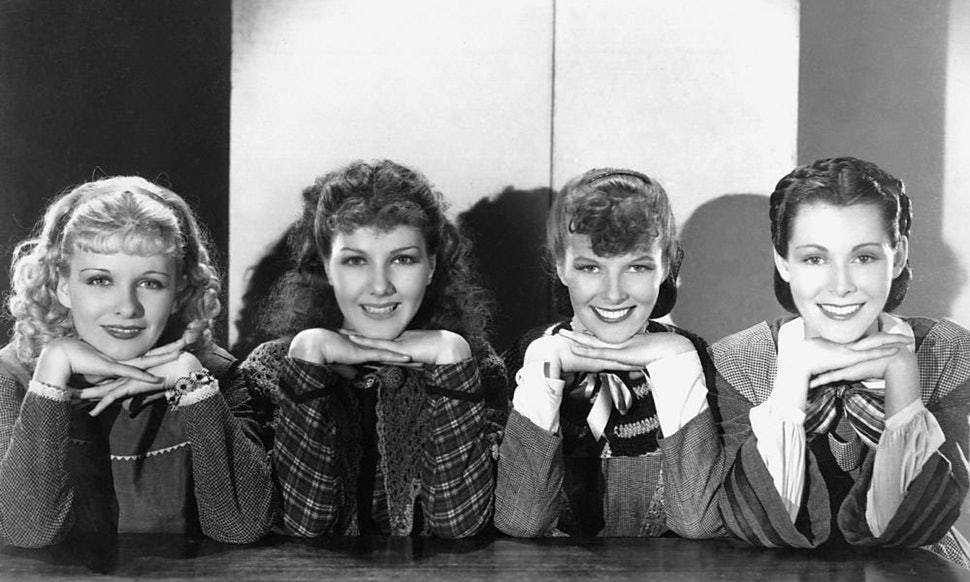 News arrives that their father is not well with an injury in Washington D.C., so Marmee travels there to care for him. After she leaves, Beth contracts Scarlet Fever she contracted when the March family had gone to take care of a sick family at Christmas. Soon the family is reunited and Beth partly recovers, and Mr. Brooke marries Meg. Laurie confesses his love to Jo but she rejects him hesitantly and instead she moves to New York to pursue her dream of becoming a writer. While living in a boarding house there she meets Professor Bhaer, a nervous German linguist who begins courting her by taking her to see the arts of the city. However, Jo receives word of Beth's ill health and she returns to Concord just before Beth dies. Meanwhile, Laurie has been courting Amy and she has accepted his proposal for marriage. At the end, Professor Bhaer returns to Concord to propose to Jo.
For her character, Hepburn requested a specially tailored dress to look like the tintype her maternal grandmother had worn. In 1933, she was nominated for Best Actress for her role in Morning Glory during the same year, though she always claimed she had been nominated for the wrong film (she often praised her own performance in Little Women). Like the release of the novel, the film was met with spectacular popularity as the memory of the stock market crash was vivid in the public's mind, and the return to a simpler time was quite welcome. The film was nominated for Best Picture, but tragically it lost to the underwhelming and dramatically inferior film, Cavalcade. Little Women was only the fourth film featuring Katharine Hepburn, and up to this point, few films had taken such a painstaking process to recreate the world of the past the way George Cukor and his team had achieved for Little Women. The Little Women story was later remade in 1949, 1978, and 1994; but the 1933 is generally considered the seminal achievement.