Sous Les Toits de Paris (Under the Roofs of Paris) (1930) Director: René Claire
★★★☆☆
René Claire (1898-1981) was heralded as one the great directors of French cinema during the 1930s. He was the son of a soap distributor but he lived the life of a ceaselessly disappointed writer, artist, and musician. He initially was an ambulance operator during World War I, but was discharged due to a spinal injury, and thus started writing and making films wherein he became an heir to the surrealist and avant-garde movements. He is best known for his early films which greatly overshadow much of his forgotten later works, The Italian Straw Hat (1928) – a silent film, Under the Roofs of Paris (1930), Le Million (1931), and A nous la liberte (1931). He continued to make films, including a spell in Hollywood, but was largely ostracized as the French New Wave movement took hold in the 1950s. At the height of his success, Claire was known as an "auteur" or one of those film directors who takes complete control of every aspect of the film. He died in 1981.
Though initially skeptical of the new sound medium, Under the Roofs of Paris is Claire's first "talkie," and consequently was one of the first French "talkies," as well. Appropriately, it is in part a musical. It was an international success in 1930, and did a great deal to build the mystique of Paris as a cosmopolitan, international city.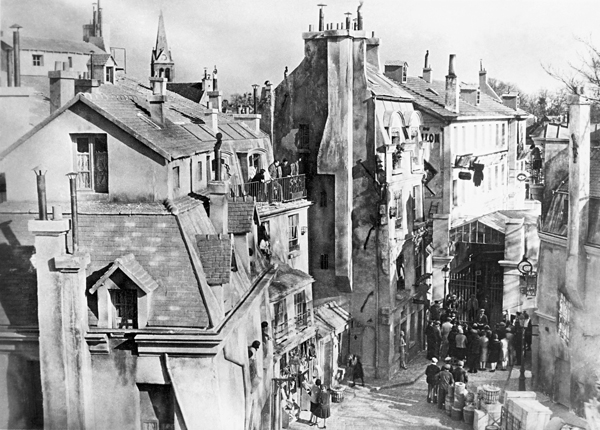 Under the Roofs of Paris is beautiful (it is unrelated to the Henry Miller novel of the same name). The film primarily features two pleasant songs, but the cinematography and set designs are extraordinary. In particular, the opening scenes of the film which showcase the tall buildings of Paris are contrasted by a group of musical men singing on the rue far below the rooftops. This scene parallels a similar large shot which closes the film, as well. The plot is sub par, as it tells a familiar story of three friends, street ruffians of Paris, who all fall in love with the same woman, a beautiful Romanian woman named, Pola. One man, Albert, is wrongly sent to prison, though at the end a reconciliation is made, but Pola chooses another man.
Claire's film is a beautiful piece about the working class in Paris, and its score, set designs, and cinematography all far outweigh the plot and pacing, among other setbacks for the film. It rather amusingly straddles the line between talkie and silent film. Nevertheless, it is an important film to the history of French cinema. I was particularly struck by the extraordinary grace and poise of the opening and closing scenes of the film which perfectly capture the streets of Paris from above.