The Big Trail (1930) Director: Raoul Walsh
★★★★★
An early prelude to the forthcoming explosion of the Western genre, starring a young and unknown John Wayne in his first big role (age 23), The Big Trail is a beautiful film about the Oregon Trail pioneers. Unfortunately the film was a box-office failure, but it is nevertheless a magnificent film. It was shot in widescreen and released at a time when many theaters did not feature widescreen movies due to the cost at the time. Wayne landed roles in several other smaller Western films until his career got a major boost with Stagecoach in 1939.
John Wayne was given the lead part only after Gary Cooper was unable to accept it. According to legend, Walsh spotted John Wayne lifting boxes on a set with ease and then offered him the part. Later, John Ford would again claim credit for this story with regard to his 1939 film Stagecoach. He reiterated this obviously false story for years to come in interviews until his death.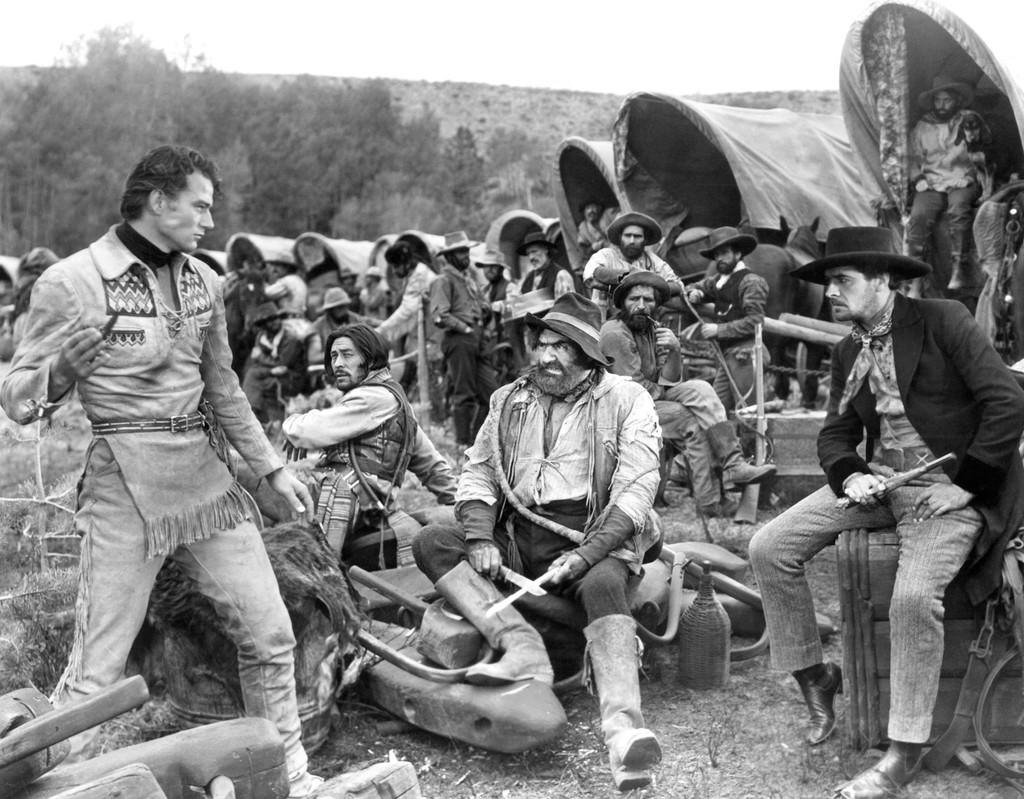 The film begins in Missouri where a large caravan of pioneers is prepping to head west. John Wayne plays Breck Coleman, a trapper and scout, or a "lone-ranger" who arrives in Missouri from his business in Santa Fe. He describes his need to avenge the wrongful death of one of his friends and fellow trappers. He discovers that the two wagon leaders, Flack and Lopez, are the villains who wronged his friend back in Santa Fe, so Coleman signs up for the expedition to Oregon. He serves as a Scout and proves to be extremely useful in their run-ins with Indians. Along the way, he falls in love with a young woman, Ruth Cameron, who rejects him at first. She is pursued by another man, Thorpe, who chases Coleman to kill him, but who is then killed by a friend of Coleman's. In the end, Coleman becomes the de facto leader of the pioneers, escaping an attempt on his own life, and he brings the wagon train to a beautiful, lush valley in Oregon to settle. Before the film ends he returns to the trail to hunt down Flack and Lopez. At the close he is reunited with Ruth in that lush Spring valley amidst towering redwoods.
Many of the scenes were shot on location throughout New Mexico to California. Some, such as the scene of lowering Conestoga wagons down a sheer cliffside, were filmed exactly as we see them -without the use of special effects. It was filmed across seven different states, with 93 actors and reportedly 725 Native Americans, 185 wagons and a cohort of animals. Apparently, there was a big problem with the staff regularly getting drunk on the set. So much so, in fact, that Walsh started calling the film "The Big Drunk".
Just two years prior, Raoul Walsh had lost an eye in the production of In Old Arizona, however The Big Trail surpasses his previous epic Western efforts with sweeping vistas, meticulous research, beautiful sets, and intense battle scenes. It was filmed all over the Western United States – Arizona, Utah, California, Wyoming, Montana, Oregon and so on. It is an amazing film, and though not appreciated in its day, The Big Trail deserves our attention today.