A part of the narrative of French Impressionism relies on the exclusiveness of the 18th century Parisian elite – the Académie des Beaux-Arts – the hub of French art culture. The Académie hosted an annual art show, the "Salon de Paris", which typically showcased preferred political, historical, religious, and mythological works. Winners of these art shows received commissions and prestige among the French aristocracy. They were the gatekeepers of social mores, and therefore in need of a rebellion. From a modern perspective, the history of art is a kind of celebration of rebellion. It is progressive in its praise of the heroes –the rebels who opened up new possibilities, extending the limits of aesthetics, and pushing the advancement of technological boundaries. The Impressionists created the new style of revolution for all later modern artists to aspire to, causing the modern artist not to want to be on the losing side of history, not to side with the 'establishment.' Today's "shock of the new" could become tomorrow's new revolutionary movement.
In the early 1860s, four young painters, all fans of Manet and his rebellion against the Académie, began venturing into the countryside while studying art together under the tutelage of Charles Geyre. Those men are now household names: Claude Monet, Pierre-Auguste Renoir, Alfred Sisley, and Frédéric Bazille. Monet shared quarters with Renoir during this period. The group regularly and famously met together at the Café Guerbois in Paris to discuss art, along with many other bohemian figures of the time, and they were frequently joined by their much admired forefather, Manet. 
After being routinely rejected by the establishment, they showcased their works at the Salon des Refusés, created by Emperor Napoleon III in response to the negative public outcry regarding the huge amount of rejections for display at the Salon. The group even formed their own association: the Société Anonyme Coopérative des Artistes Peintres, Sculpteurs, Graveurs. However, Manet, their forefather, politely declined to join, as a tenet of membership was to vow never to showcase artworks at the Salon and Manet was still committed to submitting his work to the Salon. 
The group showcased their work for the first time together in 1874. One reviewer derisively wrote about Monet's Impression, soleil levant as "Impressionism" and he labeled the works as unfinished sketches akin to wallpaper art. The writer thought this was a jab at their avant-garde works, however the name soon took hold and the artists quickly reclaimed it. Thus the movement name "Impressionism" was born.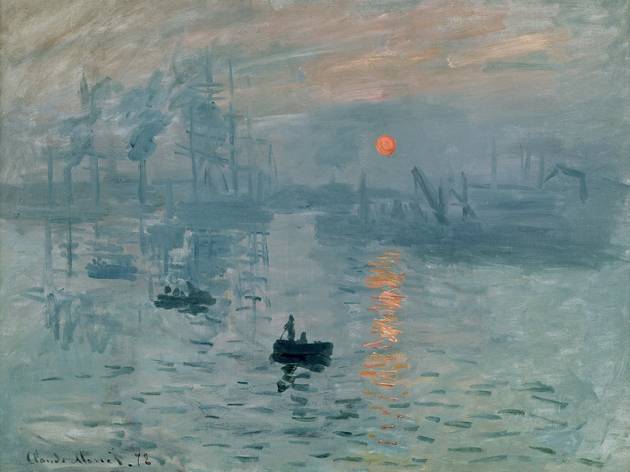 Impression, soleil levant or "Impressionism, Sunrise" (1872) -the painting which gave the name to the Impressionist movement. 
Monet's works are highly personal, and autobiographical in nature, thus the entire story of Claude Monet's life can be told through his paintings. This is distinct from earlier works of art which told stories – legends, religious imagery, heroes, national or political triumphs and so on. The modernist movement is personal, subjective, and perspectivist in its approach.  
Claude Monet (1840-1926) was born as Oscar-Claude Monet into a Catholic family, though in adulthood he later became an atheist. His family always called him Oscar, to avoid confusion with his father who was also named Claude. In his artwork he would always be known as Claude Monet ("clode moan-ay"). His father wanted Monet to go into the family grocery business, but Monet wanted to be an artist. In his youth, he made amusing caricatures of friends and neighbors. He also met Eugéne Boudin, a fellow artist who exposed him to the plein-air style of painting outdoors. Though uncontroversial today, most high artwork at the time was fashionably completed indoors, in the safety and controlled atmosphere of a studio. In 1857 at age 16, Monet's mother died and so he went to Paris to live with his widowed and childless Aunt. He then briefly served in the French army in Algeria, but after about a year he contracted typhoid and returned home. All of his sketches and works from this period, however brief, have tragically been lost. When he came back to Paris, he pursued his artwork thanks to his Aunt, who offered to purchase his exit from the army in exchange for his enlisting in a a celebrated and proper art school. 
In 1872, Monet returned to visit his hometown of Le Havre (Monet was raised outside Paris along the Normandy coast as a child) and he proceeded to paint its harbor in various works. At the time Monet was fleeing his many creditors, as well as any potential enlistment in the Franco-Prussian War. As a result of his growing indebtedness, Monet had even tried to kill himself by hurling himself into the Seine in 1868. On the trip away to Le Havre, Monet most famously Impressionism, sunrise (pictured above). In the foreground are two rowboats, followed by shadowy ship masts and a red sun. Some have suggested that the painting is a metaphor for a new Patriotic France, after the Franco-Prussian War 1870-1872. It was featured at the first Impressionism exhibit in 1874. During the Franco-Prussian War, Monet took his family and left France for England for a spell, before returning to Paris to live in the small village of Argenteuil on the banks of the Seine, Northwest of Paris. It was an old industrial town and the Monet family rented a little home. Here, he continued to paint and perfect his craft. 

Portrait of Claude Monet (1875) By: Pierre-Auguste Renoir; and Self Portrait with a Beret (1886) By: Claude Monet
Mouth of the Seine at Honfleur (1865)
This early work by Monet showcases a rare glimpse into a variety of influences, including the early influence of Dutch and Flemish paintings. 
Jardin à Sainte-Adresse (1866-1867)
His early paintings more notably demonstrated his lifelong fascination with Japanese art, and in particular with Japanese wood engravings, which later greatly impacted the construction of his famous water lily garden in Giverny. Monet amassed a large collection of Japanese engravings and they remain at his home in Giverny today. 
Consider the similarities in these few examples of Japanese wood engravings from Claude Monet's personal collection (in total he owned some 231 engravings):
ZEN HOKUSAI IITSU HITSU (1830s)
YAMADA SHOJIRO (19th century)
"The Great Wave" (early 1830s) By: Katsushika Hokusai – a copy was found at Monet's home in Giverny and is certainly the most famous work in his private collection. 
Houses on the Achterzaan (1871)
Monet rarely traveled. This painting was completed at the recommendation of a trip to the Netherlands by a fellow painter. It is of the Achterzaan River, or "Zaan" river located in North Holland. 
Camille, or the Woman in a Green Dress (1866)
Monet's paintings tended to focus on the people and places he knew best, such as his first wife, Camille. In his early years, he lived in squalid poverty, however this painting awarded him his first small financial success when it sold for approximately 800 francs. 
Here are several other Monet paintings featuring Camille and other moments from Monet's life:

The Walk, Bazille and Camille (1865)

Le déjeuner sur l'herbe (1865-1866)
Monet completed his own version of Manet's classic and controversial nude painting (of the same name "Luncheon on the Grass"), though Monet notably left out the addition of any nudes.  Featured in the painting are his friends: Gustave Courbet, Frédéric Bazille, and Monet's soon-to-be wife, Camille Doncieux. They later married in 1870. She was his mistress for many years, despite Monet's family's disapproval. She even gave birth to their first son, Jean, out of wedlock while Monet went to live with his family to keep up the impression that he had abandoned his pregnant mistress. Monet later secretly returned to Paris to live with his mistress and son in a cold one-room apartment while escaping his creditors. 
Women in the Garden (1866)
A Woman In A Garden (1867)
A fascinating anecdote about this painting is that Camille posed for the various female figures as he painted it over an extended period. The painting was rejected by the Salon for his liberal use of broad brush strokes, and it was purchased by Monet's friend, Bazille, to help keep Monet financially afloat. 

River Scene at Bennecourt, Seine (1868)
Springtime (1872)
Apparently, Monet's second wife, Alice, was extraordinarily jealous with all the memories of Camille everywhere, so she had all pictures and mementos of Camille destroyed. The paintings by Monet and his friends are mostly all that survives of the life of Camille. 
Camille Monet on a Garden Bench (1873)
The Garden of Monet at Argenteuil (1873)

The Artist's House at Argenteuil (1873)
Poppy Fields near Argenteuil (1875)
The Artist's Family in the Garden (1875)

Camille au métier (1875)

Woman With A Parasol (1875)
This famous painting portrays Monet's young family on a windy summer day at their home in Argenteuil. 
The Garden, Hollycocks (1877)

The Rue Montorgueil in Paris. Celebration of June 30th, 1878 (1878)

La route de Vétheuil, effet de neige (1879)
Camille on her Deathbed (1879)
As the story goes, when Camille passed, Monet was right by her side. He quietly shut the door and began to paint her on her deathbed. The result is this haunting and ghostly piece. 
Monet was something of a manic depressive and it hit him deeply when Camille passed. Camille had contracted tuberculosis in 1876, and later uterine cancer (which some conspiracy theorists imply may have been the result of a botched abortion), from which she passed away in 1879 at the age of 32. They had two children together, the second, Michel, being born the year before she died. The first was Jean, born out of wedlock. 
Before Camille's passing, Monet went to live with friends, Ernest and Alice Horsche. Eventually Ernest moved away and Alice and Monet grew romantically involved. Alice and Ernest never divorced.
Tulip Fields With The Rijnsburg Windmill (1886)
In the 1880s, Monet moved with Alice and their respective children a new home he purchased, thanks to recent successes, on 2 acres at Giverny. During this period, his fortunes began to change as his paintings began to sell, and eventually he was able to purchase the home and surrounding lands. He developed a vast garden on and near the property, amassing a collection of books on botany, and he hired up to seven gardeners, delivering daily instructions for how exactly to manicure his gardens. 
Monet was given to studying particular times and places, sometimes at different times of day to capture unique lighting, and other times at different times of year to highlight the changing seasons. 
For example, Monet painted a vast series of haystacks between the late 1880s and mid 1890s. These were completed after he moved to Giverny. They belonged to his neighbor who a was farmer. Here is a sampling of Monet's haystacks series:
Of course, another famous series was Monet's impressions of the Rouen Cathedral in Normandy, France. In his later years, he occasionally traveled to capture series pieces, such as the Rouen Cathedral, the London Parliament, and he also captured a notable poplar series. As with the haystacks, there were more than thirty paintings in total in the series of the Rouen Cathedral. Most were painted between 1892-1894.
In 1908, Monet made a rare trip to Italy, not intending to paint. However, he was entranced by Venice and the colors of the city at sunset. Thus one of his famous late paintings emerged (below):

San Giorgio Maggiore at Dusk (1908 – 1912)
Monet's final series, and the great occupation for the last twenty years of his life, was documenting his water lily garden at his home in Giverny. The following includes a very small sampling of his work during this period:

Water Lilies and the Japanese Bridge (1897–1899)
Water Lillies (1905)
Nymphéas "Water Lillies" (1915)
In 1918, Monet donated certain pieces of his water lily collection to the French state to celebrate peace with the recent armistice at the close of the First World War.
His second wife Alice died in 1911, along with Monet's eldest son, Jean, who had married Alice's daughter, Blanche. Blanche took care of an aging Monet who began to develop cataracts, for which he underwent surgery. In his later years his vision suffered, but he continued to paint using odd colors, particularly mixes of red, which is typical for a person with cataract issues -to experience higher frequencies of the color red. The art world had left him behind, in favor of the new Cubist movement of Picasso. He had descended into depression at the loss of a wife, a child, and his vision. Monet died of lung cancer in 1926. He insisted on a small ceremony, and he was buried at the Giverny Church cemetery where approximately fifty people attended his funeral. His son later bequeathed the famous house and gardens at Giverny to the French Academy of Fine Arts. Today, it has become a major tourist attraction.