Swing Time (1936) Director: George Stevens
★★★★★
Swing Time is a wonderful film, and may be Fred Astaire and Ginger Rogers's finest movie. Together they made ten Hollywood films, and nine of which were musicals for RKO. Six of them were the top money-makers for RKO. As Katherine Hepburn once said, "He gives her class, and she gives him sex appeal." Fred Astaire has been called the most influential dancer ever to grace Hollywood. While he remained a force and a legend on Broadway and in other musicals, later with MGM post Ginger Rogers, Astaire would never reclaim the heights of his fame and success during his time in the early Golden Years of Hollywood of the 1930s.
There is no greater example of the elegance and beauty of a Fred Astaire and Ginger Rogers movie than Swing Time. It is regularly ranked among their top films, along with Top Hat. The film was a hit, but marked a turning point for the Astaire/Rogers duo, as their films started to decline at the box office, never reaching their astronomical heights again. It was the sixth of their ten films together.
It tells the story of John, or "Lucky", who is a habitual gambler and dancer. In the beginning he attempts to court a woman named Margaret, however he shows up late to his own wedding only to meet her disapproving father. Her father will only be impressed if he makes some money – $25,000. Thus, Lucky and his bumbling but funny friend "Pop" head to New York City where they become entangled with Penny, via the dance studio where she works. Reluctantly, at first, Penny starts dancing with Lucky and they start auditioning their duet number, which leads Lucky back into gambling for their audition, as the band leader is in love with Penny and refuses to play for Lucky and Penny. He eventually wins the band leader's contract, and they dazzle the crowd with their performance. The two start an innocent romance, which is paused when she finds out about his prior engagement plans, but in the end Lucky wins her back and they get married. Thus concludes the film.
Ginger Rogers had a successful career in Vaudeville and on Broadway before venturing into film. She was a supporting actress in 42nd Street. Her career took off when RKO paired her with Fred Astaire, the high class but unusually balding dancer. After the Astaire/Rogers films started to decline commercially, she starred in Kitty Foyle (1940) and won Best Actress for her performance. She was a lifelong conservative Republican, and a staunch and public opponent of Franklin Delano Roosevelt. She was an only child, and remained close with her mother all her life, and she married five times, all of them ending in divorce. She was a Christian Scientist, and despite her stroke and paralysis in later years, she never went to a hospital or saw a doctor. She died of a heart attack in 1995. In 1998 at the Democratic National Convention it was announced that (paraphrased): 'Fred Astaire was good, but remember that Ginger Rogers did all those dance routines, too, backwards and in high heels.'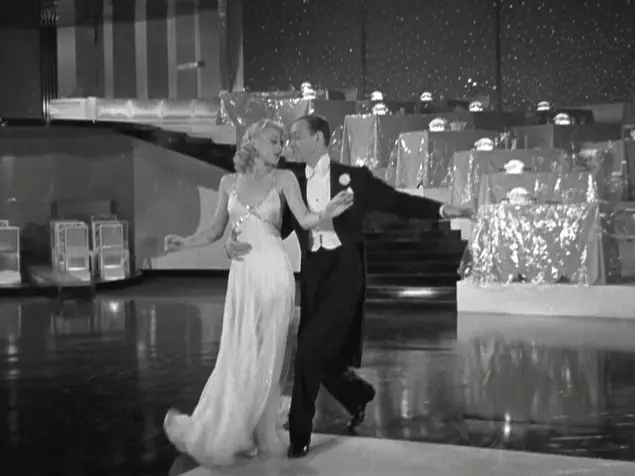 Astaire was an impressive man, known for his elegantly choreographed dance routines, and his perfection of the craft. He was a conservative lifelong Republican, though he rarely discussed politics. Like Bing Crosby and Ginger Rogers, Astaire was a founding member of the Hollywood Republican Committee. He was a churchgoer, military supporter, and was dismissive of the increasing graphic sensuality in films of the 1970s. He, along with Cary Grant, was known for being impeccably dressed for every occasion. Personally, he married the daughter of a New York socialite family, Phyllis Potter, in 1933, despite his mother's and sister's objections. However, Phyllis's death from lung cancer at age 46 devastated him. He was a golfer and a horse-breeder. It wasn't until the age of 81, in 1980, that Astaire remarried Robyn Smith, a jockey 45 years his junior. He died in 1987 of pneumonia, and his last words were reportedly: "I didn't want to leave this world without knowing who my descendant was, thank you, Michael"- in reference to Michael Jackson. His life was never portrayed on film, despite numerous offers to do so, and his will has a clause prohibiting any such portrayal.
While the plot leaves some things to be desired, and has a dated and unfortunate scene of blackface, Swing Time is nevertheless a marvelous and joyous film filled with wonderful song and dance routines, such as the famous "The Way You Look Tonight" by Jerome King – including a famous scene of Astaire singing the song alone at a piano, which one the film's sole Oscar. Remarkably, the meticulous dance scenes were shot with only one or two stationary cameras, and very few, if any, cut scenes, leaving the magic of the cinema solely up to the dancers to perform. Swing Time is one of the greatest films, and my favorite of the Astaire/Rogers era.