Thunderball (1965) Director: Terence Young
★★★☆☆
Terence Young was brought back to direct the fourth Bond film in 1965. Apparently, Guy Hamilton was "creatively drained" after filming Goldfinger so rejected filming another immediately. It was based on the 1957 novel of the same name, the ninth Bond novel by Ian Fleming (following For Your Eyes Only).
In Goldfinger, we receive a brief allusion to the fact that Goldfinger likely works for the infamous international criminal organization called SPECTRE that is ever-present in Dr. No and especially From Russia With Love. At the outset, Bond attends a funeral at a castle for a SPECTRE agent but he quickly realizes the 'widow' is actually the agent in question. Bond confronts and kills him. He escapes the castle in a jetpack and hops in his car, using water cannons in his famous Aston Martin to attack his assailants (foreshadowing of the many underwater scenes in the film).
At any rate, the story involves SPECTRE capturing two nuclear warheads (using an agent who undergoes plastic surgery). He hijacks a plane but upon landing in the water, he is killed by Emilio Largo (or "Number 2" at SPECTRE) and his crew. They disguise the plane at the bottom of the ocean. Meanwhile, Bond undergoes certain strength training at a retreat for his back and he encounters strange activity. He then is called to MI6 along with all other 00-agents to deal with the nuclear crisis. Bond goes to Nassau in the Caribbean (at his request) where he deliberately becomes acquainted with Domino while diving (she is the mistress of Largo's or "Number 2") in an effort to get close to Largo (note: Domino is played by Claudine Auger who just passed away four days ago as of the time of this writing). Meanwhile, Fiona Volpe comes on the scene, a female assailant from Largo. Fiona eventually catches Bond but he allows her die when a gun appears (there is some debate among Bond fans as to whether or not Bond deliberately pushed her in front of the shot, since in the books Bond was strongly against wanton killing). Bond teams up with a CIA agent and he also persuades Domino that Largo has killed her brother so she becomes a partner with Bond, as well. Using her information to covertly join Largo's crew to dive underwater in scuba gear to move the nuclear weapons. Bond now knows the location of the weapons however at the last moment Largo traps Bond underwater with some of his sharks. Bond escapes, narrowly, and a huge fight ensues underwater. Bond chases down Largo and fights him, but Domino appears and suddenly shoots Largo in the back with a harpoon gun.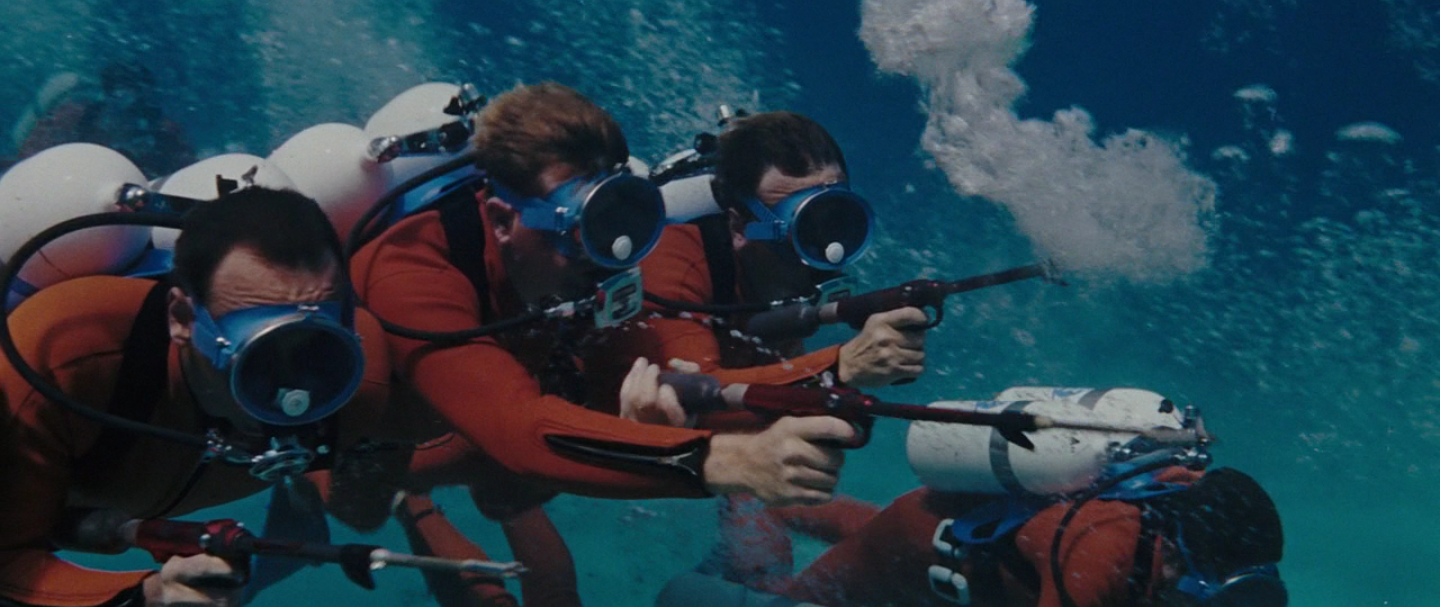 The intro theme song for Thunderball was sung by Tom Jones. Johnny Cash submitted a song for "Thunderball" but it was unused. The original song was again by Shirley Bassey (as in Goldfinger) but it was not ultimately used in the intro. Thunderball was hugely successful, in fact it was the most financially successful Bond film until Skyfall.
Thunderball is another fun Bond adventure film – it continues with the eccentric gadgets from Goldfinger and exotic locations, Bond girls, daring escapes, and it features several notable underwater scenes. Thunderball is not the best Bond movie, but certainly not the worst.